Johannes Brahms: Ein Deutsches Requiem
Sunday 4th November 2018,  7.30 pm
St. Michael and All Angels, Summertown, Oxford, OX2 7ES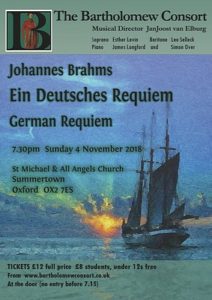 The Bartholomew Consort is proud to present a performance of Brahms' Ein Deutsches Requiem as we come to the end of commemorations marking the passage of the Great War of 1914-1918.
While Brahms called this work Requiem, it does not follow the usual sequence of a Requiem Mass. Instead he chose passages from the Bible which are more often used in relation to those  who have yet to rest from their labours here on earth.
The work is frequently performed with full orchestra, however at the request of his publisher, Brahms created a version of the score to be made available for chamber performance with piano accompaniment (four hands one piano).
This version of the work travelled to England for its British debut at a private residence in London, presented in English and without the Fifth Movement. Brahms himself conducted around 30 singers and two pianists at that event.  The English translation used then has been lost, so we shall be singing the original German texts drawn from verses of the Lutheran Bible.
The Bartholomew Consort has been offering excellent performances of choral music in Oxford and throughout the UK and Western Europe since 2001 under its distinguished Musical Director JanJoost van Elburg.
The Soprano soloist will be Esther Levin, with Leo Selleck as Baritone.  James Longford and Simon Over will accompany on the piano.
Entry is £12, with £8 for students and under 12s free.  Wheelchair users £8 (carer no charge).  Tickets can be purchased at the door  or online in advance from Tickets Oxford at the Oxford Playhouse, (phone 01865 305305).
Please note that the Church doors will not open until  7.15.  Earlier arrivals are welcome to wait in the new enclosed Threshold area at the West door.
---
Upcoming concerts