Songs of Saints
Sunday 3rd March 2019 at 8pm
St. Giles' Church, Oxford, OX2 6HT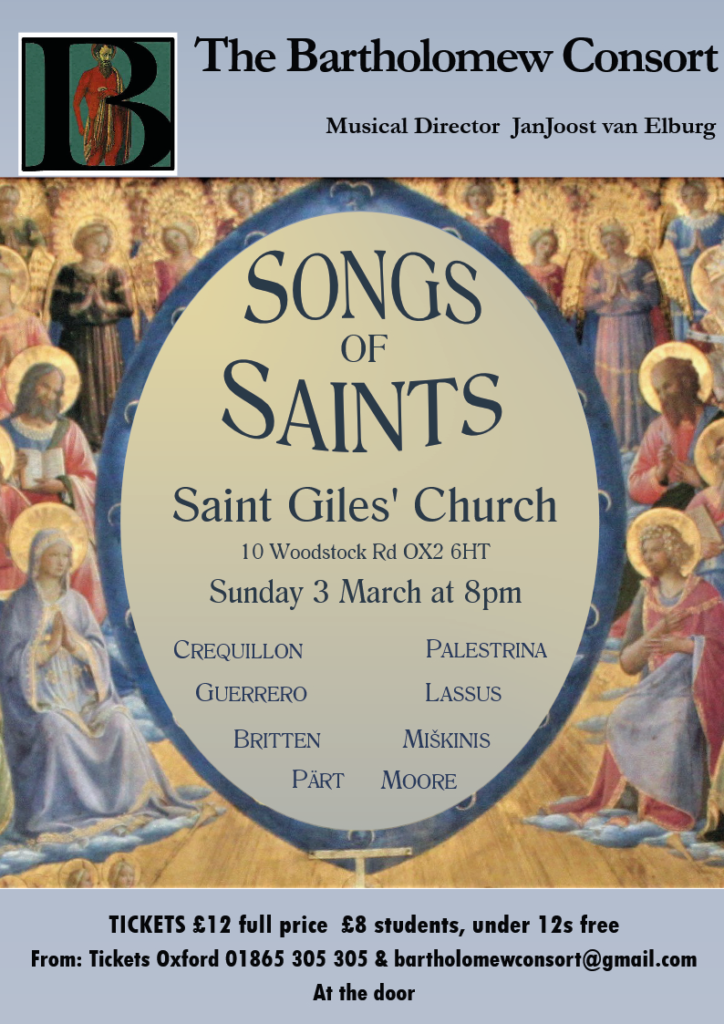 Tickets available at TicketsOxford from February 1st price £12 (students, job seekers, disabled £8, under 12s free).
Choral music drawn principally from the C16 and C20, written to honour the saints in song. Composers include Crequillon, Palestrina, Guerrero and Lassus, Britten, Moore, Part and Miskinis.
The disciples Saint Andrew and his brother Saint Peter lived in the company of Jesus, as did Maria Magdalena, who was finally freed of her questionable status as prostitute in 1969; Saint Cecilia (d. 230), Saint Ambrose (d. 397) and Bernard of Clairvaux (d. 1153) all led xemplary lives dedicated to God, denying worldly love, possessions
or comforts; the Virgin Mary, mother of God, the most meritorious saint of all, and all Angels have inspired many composers to write a wide range of powerful, imaginative and extraordinary pieces of music.
In our programme Songs of Saints eight compositions by composers of the Renaissance and the XXth and XXIst century each shed light on a different saint.